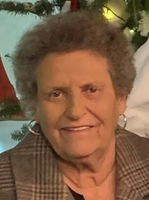 Angela M. Stoddard
Angela Marie (Maley) Stoddard, 82 of Marcellus, NY passed away on July 24, 2022. Angela was born in Syracuse, NY on June 21st 1940 to the late Charles and Mary Maley. She grew up in Solvay, NY and graduated from Solvay High School. Angela worked at Syracuse China until her marriage in 1965.
She is survived by her husband of 56 years Erle W. Stoddard and daughters Donna Stoddard of Marcellus and Andrea Makris and husband Dean of Wilmington, NC, brother-in-law Jack Stoddard and his wife Doris of East Syracuse, many nieces, nephews and cousins. She was predeceased by sister-in-law Shirley Fleming and her husband James, sister-in-law Patricia Larosche and her husband Jake, brother-in-law Bruce Stoddard and his wife Dorothy.
Angela was a devoted member of the Catholic Church and traveled with groups from St Joseph's Church of Camillus and Holy Family Church of Fairmount. Angela and Erle enjoyed traveling in the past and more recently enjoyed summers on Skaneateles Lake and became communicants of St. Mary's of the Lake Church in Skaneateles.
The family would like to thank the staff of Hematology and Oncology at Community Hospital and the staff of 4 South at Crouse Hospital for her care over the last 5 years. In addition, the family would like to thank Matthew House and Hospice of Central NY for her care this past month.
Calling hours will be Friday, July 29th from 4 to 6pm at Ryan Funeral Home, Marcellus. A Memorial Funeral Mass will be celebrated the next morning 10am Saturday in St Mary's of the Lake Church, Skaneateles.
In lieu of flowers, we encourage you to donate blood to your local blood bank and make a contribution to Matthew House, Inc., 43 Metcalf Drive, Auburn, NY 13021.