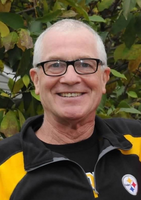 Guy R. Dingman
Guy R. Dingman, 67, of Syracuse, NY passed away unexpectedly on July 2, 2022. Guy was a graduate of Marcellus High School Class of 1972. He was retired and during his retirement, you could find him either enjoying time with family and friends or happily stocking the dairy department at Wegmans. Guy was known for always offering a helping hand and being the best cheering section at a ball game. He was predeceased by his father, Robert C. Dingman of Marietta, NY, and mother, Rosemary F. (Provan) Dingman of Inverness, FL.
Surviving are three daughters Elizabeth Dingman of Somerville, MA, Sarah Johnston of Solvay, NY and Meghan (Justin) Nugent of Westvale, NY; grandchildren Connor Johnston, Jackson Nugent, Mila Nugent and Guy Whitney; his sister, Mary Beth Wiggers of St. Petersburg, FL; brother, William (Jann) Dingman of Camillus, NY; children's mother, Susan Dingman; many nieces, nephews, and their children who he adored.
Calling hours will be from 4 to 6pm Monday, July 11, 2022 at Ryan Funeral Home, 44 E. Main Street, Marcellus. A Memorial Mass will be celebrated the next morning, Tuesday at 10am in St. Francis Xavier Church, One W. Main Street, Marcellus.
Those who wish to remember Guy in a special way, please make a gift in his memory to the American Heart Association.