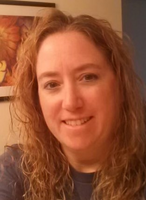 Judith Crysler Soliday Schad
Judith Crysler Soliday Schad, 52, of Cape Coral, FL and formerly of Marcellus, NY passed away unexpectedly at home. Judy was a 1987 graduate of Marcellus Central Schools. She loved playing with her grandson, the beach and baking. Judy also enjoyed hockey and watching the Tampa Bay Lightning. She was predeceased by her mother Mert Crysler in 2015.
Judy is survived by her children Cody Soliday and Kendra Soliday; grandson Dean Benson; her father Robert Crysler; siblings Robert Crysler, Jr., Steven (Elaine) Crysler, Timothy (Lydia) Crysler and David (Trish) Crysler; many aunts, uncles, nieces and nephews.
Calling hours will be 1 to 4pm Saturday, July 9 at Ryan Funeral Home, 44 E. Main Street, Marcellus. Services will be private.
In lieu of flowers, contributions may be made to Helping Hounds Dog Rescue.