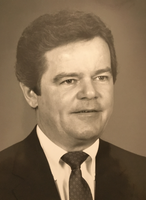 James C. Milne
James C. Milne, 87, of Marcellus, NY, passed away June 13, 2022. Born and raised in Buffalo, NY, he was the son of the late James and Margaret Milne. Jim retired from Niagara Mohawk Power Corporation after more than 40 years of service, most of which was as a manager in the Information Systems Development Department. He was a proud alumnus of Canisius High School in Buffalo and completed coursework at both SUNY Buffalo, as well as Syracuse University.
Jim was quite involved with horses several times in his life and thoroughly enjoyed the annual bass-fishing trips with the LBFC. He was an avid reader and enjoyed almost all forms of music. He served on several boards of directors for community service organizations, including the local Boy Scout Troop, community youth recreational council and School District Parents/Teachers Organization. He was a communicant of St. Francis Xavier Church, Marcellus. Jim and his wife Arlene enjoyed vacationing throughout the US and abroad.
Jim is survived by his loving wife of 68 years, Arlene; two sons Bruce (Diane) and Robert (Annie) Milne; daughter Lori (Paul) Bertalan; grandchildren Clara Milne; Andrew, Shelby and Mathew Milne; Stephanie and Brendon Cambra; and great-granddaughters Julia and Alexandra. Also surviving Jim are his sisters Janice Carpenter and Molly Wagner; many nieces and nephews.
A Mass of Christian Burial will be celebrated 10am Saturday, June 18th in St. Francis Xavier Church, One West Main Street, Marcellus. Burial will be private. There will be no calling hours.
Contributions may be made to Canisius High School Class of 1953 Scholarship Fund, Buffalo, NY or Crouse Hospital ICU, Syracuse, NY.