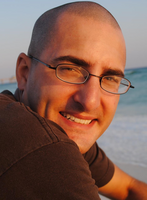 Zachary D. Esterguard
Zachary Daniel Esterguard, 42, of Syracuse, passed away Monday, June 6, 2022. Born in Littleton, NH, he graduated from Weedsport High School and was a United States Army Veteran. He was employed by Bristol Myers Squibb. Zack was a soldier, an artist (sketch, sculpture and photography), an appreciator of classic cinema, a loyal fan of Star Wars and Doctor Who, an avid reader of fantasy fiction with excellent taste in Heavy Metal music, an action-figure collector, a loving father and sarcastically funny. Above all, he enjoyed spending time with his family and friends.
Surviving are his wife, Lu Mei Esterguard; sons, Jonathan and Robert; parents, Paul and Janet of Syracuse; brother, Graham of Syracuse; and a large extended family.
Relatives and friends may call on Wednesday, June 15 from 4 to 7 p.m. at Ryan Funeral Home, 44 E. Main St., Marcellus. Military Funeral Honors will be rendered Thursday, June 16 at 1 p.m. in the chapel at Onondaga County Veterans Memorial Cemetery, Syracuse.
In lieu of flowers, contributions may be made to a local animal shelter of your choice.