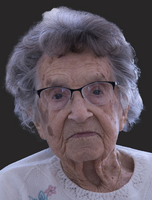 Arlene F. Pollock
Arlene F. Pollock, 100, of Marcellus died peacefully at home on June 3rd. She was born on April 5, 1922 at her parent's home in South Onondaga. Arlene graduated from Onondaga Central and Syracuse University with a degree in elementary education. She taught 3rd grade at Onondaga Central for many years. Arlene loved baking, gardening and bird watching. She was a communicant of St. Mary's of the Lake Church in Skaneateles.
Arlene was predeceased by her beloved husband of 63 years Ralph Pollock, her parents Leslie and Margaret Farrance and her brother Kenneth Farrance. She is survived by four children: Richard (Leslie) of Scarborough, ME, Margaret of Santa Barbara, CA, Ralph of Skaneateles and Bruce (Susan) of Camillus; four grandchildren and three great-grandchildren.
A Mass of Christian Burial will be celebrated Saturday, June 11th, at 10:00am in St. Mary's of the Lake Church, Skaneateles. A calling hour will be from 9 to 10am in the church prior to the Funeral Mass. The Rite of Committal and burial will be at St. Mary's Cemetery, Skaneateles.
In lieu of flowers, contributions may be made to St. Jude Children's Research Hospital.