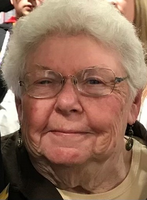 M. Anne Weeks
M. Anne Weeks, 87, formerly of East Irondequoit, and who recently resided at Francis House in Syracuse, passed away on Monday, May 23th after a lengthy illness. Anne was raised in Tully, NY, the daughter of the late Francis and Loretta Foley and graduated from Morrisville College, receiving her degree in nutrition. She retired after 20 years from the Rochester City School District, where she was the cafeteria manager.
Anne was an avid sports fan and could always be found watching and supporting her New York Yankees, Buffalo Bills and Syracuse Orangemen.
Anne was predeceased by her beloved husband of 57 years, James A. Weeks and her brothers Francis Jr. and John Foley.
She is survived by her children, Karen (Joseph) Cotter, Janet (Carl) Robens and Michael (Bridgett) Weeks; 9 grandchildren; 8 great-grandchildren; her sister M. Catherine "Kate" Edinger; several nieces and nephews.
The family would like to thank all the love and care that Anne received while at Francis House. They truly became her other family. In lieu of flowers, memorial contributions may be made to Francis House, 108 Michaels Ave., Syracuse, NY 13208.
Private services and burial were held.