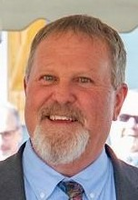 David F. Files
David F Files, 61, of Marcellus, New York, passed away peacefully on May 20, 2022 surrounded by family and friends. Born in Portland, Maine he spent most his life in Marcellus. A loving husband, son, brother, father, and grandfather to be - Dave was an avid golfer and a longtime member of Tuscarora Golf Club.
He is survived by his wife, Julie; parents, Louise and George; daughter, Alexandra (Michael) Thomas; sons Christopher and Brennan; his brothers Mike (Sissy), Phil and Steve (David Grossman); several nieces, nephews, and great-nephews.
A celebration of Dave's life will be held on Tuesday, May 24, from 2 to 5pm at Tuscarora Golf Club, Marcellus, NY. Services will be private.
In lieu of flowers, contributions may be made to Marcellus Fire Department, 4242 Slate Hill Road, Marcellus, NY 13108 or First Tee – Syracuse, 5050 Jamesville Road, Syracuse, NY 13078.