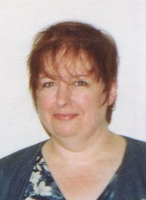 Louise Marie Kearns
Louise "Lou" Marie Kearns, 63, of Syracuse passed away unexpectedly April 14, 2022 at St. Joseph's Hospital, Syracuse. Lou was a 1978 graduate of Tully Central School and a 1980 graduate of North Country Community College, in Business and Art, where she then enjoyed many years in Malone, NY. Lou worked 25+ years for Syracuse University at the Syracuse University Bookstore, in Art and Architecture. She was a very talented artist, working with many different mediums. Lou was selfless, kind and loved her cats.
Lou is survived by her siblings James G. Kearns of Otisco, Colleen (Robert) Hillers of DeWitt and Michael (Ramona) Kearns of St. Petersburg, FL; nephews Joshua and James Hillers; several aunts, uncles and cousins.
Calling hours will be from 10am till noon, with the memorial service to follow, both held on Sunday, June 5, 2022 at Ryan Funeral Home, 44 E. Main St., Marcellus. Burial will be private.
In lieu of flowers, contributions may be made to Wayward Paws, Inc., 9048 Delphi Falls Road, New Woodstock, NY 13122.