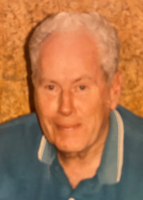 William D. Brogan
William Dennis "Bill" Brogan, 91, of Syracuse passed away peacefully at home January 16, 2022 with family and friends by his side. Bill was a playful Irishman who enjoyed all seasons. He loved to sail, ski and be with friends and make new ones, however, his greatest loves were his family and his faith.
Bill was a graduate of Most Holy Rosary High School and Le Moyne College and served his country in the US Army and Army Reserve. He had a long career with Allstate Insurance Company. Bill was the son of Thomas and Katherine Murphy Brogan. He was predeceased by his wife of 55 years, Shirley Friedrich Brogan.
Surviving are his brother Tom; children Dennis, Martha Fiacchi (Joe), Michele Baldwin (Kent) and Thomas (Kerry); his grandchildren Colleen and Meghan Brogan, Joseph (Katrina), William (Eliza), James, Margaret and Thomas Fiacchi, Brogan Baldwin, Maddy, Riley and Bella Brogan and great-grandchildren Theo and Lilly.
Bill will be honored at a Memorial Mass held in The Church of St. Michael & St Peter, 4782 W. Seneca Turnpike, Syracuse, NY (mask required) at noon, Saturday, January 22, 2022.
In lieu of flowers, donations may be made to the Marcellus Ecumenical Food Pantry, P.O. Box 147, Marcellus, NY 13108.