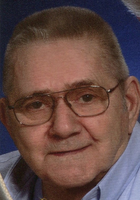 Clifford R. Wilson
Clifford R. Wilson, 86, of Marcellus, NY passed away Tuesday, January 11, 2022 at St. Joseph's Hospital in Syracuse after a brief illness. Cliff was born and raised in Syracuse, one of 10 children to Alta and Harry Wilson. He married the late Sally Bex in 1955 and moved to Marcellus in 1965.
Cliff was employed 14 years as a machinist and 26 years as an elevator technician. He was a charter member of the Marcellus Jaycees, a member of the International Union of Elevator Constructors Local 62 and belonged to many social groups. Cliff enjoyed music, cooking, putting on clambakes, woodworking and created many pieces of fine furniture. He made many pieces of heirloom fretwork for his family as well.
Surviving are his children, Deborah Scott of Syracuse, David of Marcellus and Patti Graf of Skaneateles; six grandchildren, Michael Bender, James (Sarah) Barrett, Kimberly (Jereme Davis) Bender, Jennifer (John) Mahshie, Melissa (Christopher) Finke and Victoria Graf; seven great-grandchildren, Graice, Molly, Ava, Evelyn, Jacob, Madelynne and Logan; numerous nieces and nephews.
A calling hour will be from 11am to noon, with the funeral service to follow (masks required), both held Wednesday, January 19th at Ryan Funeral Home, 44 E. Main Street, Marcellus. Burial will be in the spring at Amber Cemetery.
In lieu of flowers, please consider a donation to the Amber Congregational Church, 2366 Otisco Valley Road, Marietta, NY 13110.