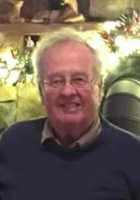 David F. Peatfield, Sr.
David "Dave" F. Peatfield, Sr., 83 of Marcellus, New York where he lived for 47 years, passed away peacefully and unexpectedly on December 24, 2021. Born in Flushing, New York in 1938, he graduated from Cornell University in 1960 with a Bachelor's degree in Agriculture. He and his wife married in 1960, had two sons he was very proud of, served in the U.S. Army and bought a dairy farm in Sempronius, NY. He successfully owned his own business, The Peatfield Company, Ltd. (real estate appraisal and consulting) with a MAI (Member of the Appraisal Institute) title located in the City of Syracuse for many years appraising commercial, industrial and land properties. He was previously involved with the Martisco Lion's Club and on the Board in Marcellus. After retiring from the appraisal company, Dave opened Field's Antique Maps and Frames located in the Village of Marcellus framing maps and pictures. He had a special talent fixing antique maps and frames, framing his antique maps and providing customers with special orders. He was always staying busy and gave generously. He was a man that loved life to the fullest and traveled all over the world with his wife. Dave enjoyed his Thursday's golf team and his breakfast buddies. On every Friday and Saturday he enjoyed his dinners at The Marietta House with his wife and visiting with friends. He was very loved and we will miss going to him for his wisdom. His life ended with dignity and class. He did it "his way."
Dave is predeceased by his parents, the Rev. Alice Gertrude and Robert Raymond Peatfield; his son David F. Peatfield, Jr. (2017) and his brother Robert B. Peatfield (2007).
Dave is survived by his beloved wife of 62 years, the former Nellie L. Whynott; son Jonathan R. of Albany; grandson Jonathan A. of New York City; granddaughter Taylor N. of Syracuse; brother Harold A. Peatfield of Niantic, CT; daughter-in-law Susan M. Peatfield of Syracuse and several nieces, nephews and cousins.
A celebration of life will be the summer of 2022 so family and friends can honor him together.
A special thank you to his family, friends and the Ryan Funeral Home in Marcellus for being there for his wife.
In lieu of flowers, contributions may be made to Wounded Warriors Project, P.O. Box 758516, Topeka, KS 66675. Web Address: www.woundedwarriorproject.org Donors may also call at 877-832-6997 Monday through Friday from 9am through 7pm EST.