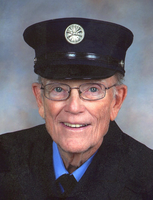 Charles F. Horton
Charles Frederick Horton, 90, of South Onondaga, passed away peacefully at home December 24, 2021 with family by his side. Chuck graduated from Marcellus Central School in 1948 and from the State University College of Forestry at Syracuse University in 1952. He worked in lumber sales for 40 years, retiring in 1991 from Plunkett-Webster Lumber.
Chuck was a communicant of Corpus Christi Church. He was a member of the Otisco Fire Department from 1954 to 1958. Chuck then became a member of the South Onondaga Fire Department in 1958 till the present and was a past president.
Chuck passed his love of the outdoors and activities onto his children, grandchildren and others, who enjoyed his knowledge. He was a long time member of the Nedrow Sportsmen Club, where he was a hunter's safety instructor.
Chuck was predeceased by his wife of 52 years the former Rita Gorny in 2005; his sister Theresa Holmes in 2021 and son-in-law Carl Ryan in 2004.
Surviving are his children Mary Ryan, Thomas (Cindy) Horton and Lisa (Brad) Wirth; five grandchildren and four great-grandchildren.
Calling hours will be from 4 to 7pm Wednesday, December 29th (mask required) at Ryan Funeral Home, 44 E. Main Street, Marcellus. A Mass of Christian Burial will be celebrated 11am Thursday (mask required) in St. Patrick's Church, Otisco. Burial will be private.
In lieu of flowers, contributions may be made to South Onondaga Fire Department, 3130 Cedarvale Road, Nedrow, NY 13120.