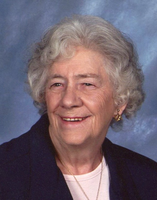 Ruth E. Curtis
Ruth E. Curtis, 92, of Navarino passed away suddenly Thanksgiving Day. Ruth was adventurous and positive, always living life to the fullest. She worked many years at Camillus Cutlery in the payroll department, retiring in 1989. Ruth was a 50-year member and past Matron of Morning Star Chapter #289 Order of the Eastern Star and other fraternal groups. In her Navarino community, she was a member of the church choir and fire department ladies' auxiliary. Ruth was an avid golfer for decades, but most recently enjoyed playing cards with family and friends. She loved gardening, camping, and traveling.
Ruth was pre-deceased by her husband, Bradley "Bud" Curtis, and grandson Herbert Freeman and longtime companion Donald Balch.
Surviving are her children Brad (Marion) Curtis, Richard Curtis and Eileen (Bruce) Freeman; grandchildren Maria (Mike) Hudson, Sara (Paul) Hermansky, Kelly Curtis and Lyle Freeman; and great-granddaughter Margaret Andrews.
Calling hours will be from 3 to 6pm Tuesday, November 30, with an Eastern Star Service to follow, both held at Ryan Funeral Home, 44 E. Main Street, Marcellus. The Funeral Service will be held 11am Wednesday at the funeral home, and a celebration of life will follow from 1 to 5pm Wednesday at the Navarino Fire Department. Burial will be private.
In lieu of flowers, contributions may be made to Navarino Fire Department.