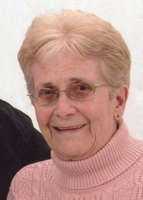 Wilma Nash
Wilma Clara Nash, 85, of Navarino, NY passed away Sunday at home surrounded by her loved ones. Wilma was a graduate of Onondaga Central School. She worked many years at the family business, Ron Nash and Son Builders, also at Beak & Skiff Apple Orchards and as a teacher's aide at OCS.
Wilma was predeceased by her husband Ronald in 2020 and daughter Susan Wood in 2018.
Surviving are her son Edward (Deanie) Nash; son-in-law Gary Wood; grandsons Eric (Colleen) Nash and Brandon Nash; granddaughter Elizabeth Robison; 11 great-grandchildren and her sister Beverly (Gill) Rothenberg.
Calling hours will be from 3 to 6pm Thursday, November 18 at Ryan Funeral Home, 44 E. Main Street, Marcellus. Burial and service will be private. A celebration of life, for both, Wilma and Ron, will be held 5pm Friday, November 19 at the Navarino Fire Department, 3276 Amber Road.
In lieu of flowers, contributions may be made to the Navarino Fire Department or Hospice of CNY.