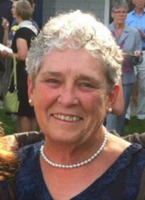 Barbara S. Ryan
Barbara Sharp Ryan, 88, of Clayton NY, (formerly Navarino, NY and Brooksville FL), died peacefully at home in Clayton on October 29, 2021 under the care of Hospice, with her son and daughter by her side.
Born on August 5, 1933 in Berkshire, NY, Barbara was the daughter of Henry and Leona Sharp. She graduated from Newark Valley High School, and received a Bachelor's Degree in Early Childhood Education from SUNY Cortland, and a Master's Degree in Special Education from Syracuse University. She married Gale C. Ryan on June 27, 1959 at Berkshire United Methodist Church and moved to Navarino, from where she raised a family, taught and lived for over 50 years. In 2017, Barbara and Gale re-established their primary residence in Clayton, NY. Gale passed away on January 5, 2021.
A kindergarten teacher in the Marcellus Central School District her entire career, retiring in 1986, Barbara was active in the Navarino United Methodist Church, NY State Grange, and was a member of the American Legion Post 239 Auxiliary.
Surviving are two children Patrick Ryan of Falmouth, MA and Kelly Jo Smith (Raymond/Smitty) of Clayton, NY; four granddaughters Amanda (Brent), Pippa, Chelsea and Gemma; one great-granddaughter Stevie Rhea; two brothers Robert Sharp (June) and Roger Sharp (Barbara); two sisters Lorraine Hobbie (Charles Gallia) and Janet Ricci; several nieces and nephews. Her parents and three siblings Henry Sharp, Shirley Simmons and Dorla Sharp predeceased her.
In lieu of flowers, donations can be made in her name either to Skaneateles United Methodist Church, Skaneateles, NY or Hospice of Jefferson County, Watertown, NY.
Arrangements are with Ryan Funeral Home, Marcellus, NY. Calling Hours will be on Thursday, November 4th from 4pm-6pm at the funeral home located at 44 Main Street, Marcellus. Burial will be private. A Memorial Church Service will be held at 3pm Friday at Skaneateles United Methodist Church, 26 Jordan Street, Skaneateles, followed by a gathering at the American Legion Post 239 located at 3808 Jordan Road, Skaneateles.
We would like to thank the following people for the magnificent care they gave to our Mother: Hospice of Jefferson County, (You all went over and beyond your call of duty to make Mom comfortable!) Personal caregivers: Karen Plantz, Bre Morgia-Woodward, Sandy Veley, Lynn Mereau, Maria Balcom, Pam Weaver, Julie McCrum and Betsy Lawrence. Thank you for your kindness and love you showed toward our Mom.