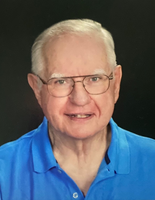 John L. Lacey
John Lawrence Lacey, age 82, of Marcellus, NY passed away on Saturday, September 25 after a brief illness. Born on July 30, 1939 in Syracuse, NY, to Arad (Pat) and Mary Lacey, he was raised in Marcellus along with his cousin Jim Burke and lived there most of his life. He was a 1957 graduate of Marcellus High School, where he was a standout player for the school's basketball team. After high school he joined the US Air Force, eventually being stationed in Japan. After the Air Force, John enrolled in Le Moyne College in Syracuse, graduating in 1964, and went on to receive his MBA from Syracuse University. John retired as Director of the New York State Trade Adjustment and Assistance Center in 1999.
John spent several of his summers building docks at his father's marina in Cape Vincent, NY. It was there that he met Barbara Ann Cartin, whose parents, Stan and Edna, lived in Syracuse and had a camp in Cape Vincent. John and Barbara fell in love, attended Le Moyne College together, and married in 1964. After residing for a short time in Baldwinsville, in 1968 they purchased a home in Marcellus where they raised their family and lived for over 50 years until their recent move to The Nottingham retirement community.
John is preceded in death by his son Mark, who passed away earlier this year. He survived by Barbara Cartin Lacey, his wife of 57 years, and his children and their partners: Michael and Beth Lacey of Albany, Darrian Zaslowe Lacey of Ridgefield, Connecticut, Stephen and Kristan Lacey of Lake Bluff, Illinois, John Lacey and Stephanie Cavallaro Lacey of Syracuse, and Katheen and James Bronson of Camillus. John is also survived by 14 grandchildren, all of whom enjoyed donuts after Sunday Mass and evening ice cream with their grandfather even though he should not have had it: Wade, Emily, Mason, Isabella, Clare, Marian, Fiona, Patrick, Daniel, Jonah, Finn, Roan, John, and James.
John will be remembered for many things, but primarily the deep and quiet love he had for his family and his unwavering faith in God.
Calling hours will be 4 to 6 pm Monday, October 4 at Ryan Funeral Home, 44 E. Main Street, Marcellus. A Mass of Christian Burial will be celebrated the next morning, 10 am Tuesday in St. Francis Xavier Church, Marcellus. Burial will follow at St. Francis Xavier Cemetery.