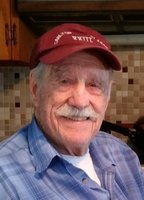 John W. Carlton
John William Carlton, 94, of Tully, passed away on August 6, 2021, at home surrounded by his loving family.
The eldest of 10 children, John was born in 1926 to George and Carrie Carlton. Upon graduating from Tully Central High School, he attended Cornell University before enlisting in the Navy to serve during World War II aboard the USS Norton Sound (AV-11). He returned home to become a proud member of Sheet Metal Workers, Local #58 and over his career rose to the top of his profession.
After raising his family in Tully John Carlton set off to see the world. He was an avid skier and sailor and took pleasure in discovering all the adventures of life. He was the king of nicknames, always easy with a laugh and quick with a joke. He was a wise, kind man who loved being with his family.
John was preceded in death by first wife and mother of his seven children, Patricia (Smith), second wife Wilda (Saulsbury) and sons-in-law Paul Searle and Jon Oaks.
He lives on through his children; Linda Searle, Sandra (Steven) Usherwood, Peter (Colleen), Penny Oaks, Richard (Mary), John (Roxanne), Mary Jane (Trace) Collingbourne, 15 grandchildren and 14 great-grandchildren, as well as six surviving siblings.
He was a companion and friend to many. He will be forever loved and dearly missed. May the wind be always in his sails.
Services will be private.
In lieu of flowers, consider memorial donations in John's name to: PEACE, Inc. / County South Family Resources Center, 12 Clinton St. / PO Box 312, Tully, NY 13159.