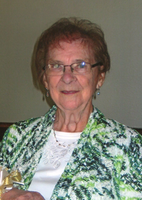 Mary Catherine Webber Cook
Mary Catherine Webber Cook, 96, formerly living 45 years in Marcellus, NY and also had lived many years in Ruskin, FL passed away July 29th in Syracuse, NY. She was a dedicated, caring wife and mother, first and always.
Mary worked many years in retail as a stockroom manager utilizing her sharp mind for numbers and organizational skills. A friend said of mom, "She was a remarkable woman, thinking of her in her little red car getting down the road." Mary was predeceased by her loving husband Raymond; son Eddy Cook and daughter Jean Rigsby.
Surviving are her children Kenneth (Lynda) Cook, Patricia (John) Kappes and Mary Ellen (J. Michael) Kelly; daughter-in-law Sharon; son-in-law Dan (Karen) Rigsby; grandchildren Shane Cook, Shelly Cook Barhites, Kenny Cook, Eddy Cook, Heather Cook Long, Brian Cook, Wendy Johnson, Mark Johnson, Patty Kappes, Sean Kelly, Brenna Kelly Hockey, Andrew Rigsby and 16 great-grandchildren.
A private service and burial will be held at the Florida National Cemetery in Bushnell, FL.
In lieu of flowers, contributions may be made to St. Francis Xavier Church, P.O. Box 177, Marcellus, NY 13108.