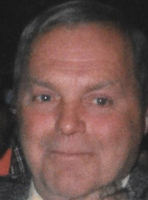 James F. Brenneman
James "Jim" Francis Brenneman, 80, of Spafford, NY passed away Tuesday, May 18, 2021 at the VA Medical Center in Syracuse, NY.
Jim was born November 9, 1940 in Syracuse to Harry and Margaret (Flanagan) Brenneman. He grew up in the Marcellus area and after high school joined the US Marine Corps in 1958. On October 10, 1964 he married Doreen May Spearing. Jim was employed in the construction industry and retired several years ago.
Jim was predeceased by his parents Harry (1985) and Margaret (2016), his brother Wesley (2016) and nephew Peter Sgouris (2013).
Surviving Jim is his wife of 56 years Doreen; two sons, James and his wife Heather and their daughter Kathryn of Syracuse, and son Robert of Spafford; two daughters, Barbara of Marcellus and Kathleen (Richard) and their daughter Izabella of Spafford; two sisters, Judy (Don) Roche of Marcellus and Sally (Nick) Sgouris of Spafford; sister-in-law Janet Brenneman, and several nieces and nephews.
Service will be private. There will be no calling hours.
Contributions may be made to the Borodino Fire Department or SAVES.