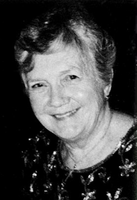 Janet Nolan McCabe
Janet Nolan McCabe, 92, of Fayetteville passed away peacefully May 13, 2021, at home with several of her children and loving caregivers by her side. She was born in Nyack, New York to the late George and Josephine Hudson. Janet was predeceased by her first husband, John L. Nolan, in 1976, her 2nd husband, Robert K. McCabe, in 2019, and her son, Thomas, in 2020.
She is survived by her children Mary (Gerald), John (Carol), Chris (Polly), Peter (Joan), Eileen (Michael), Patti, Ginger, Nancy, Andrew (Beth) and Edward (Mariya), stepson Michael (Marilyn) McCabe, nephew Scot (Amy) Peluso, 47 grandchildren, 60 great-grandchildren, 2 great-great-grandchildren, and many nieces and nephews.
A Mass of Christian Burial will be celebrated on Wednesday, May 19, 2021 at 10am in Immaculate Conception Church, 400 Salt Springs Street, Fayetteville. Burial will be at St. Mary's Cemetery, Dewitt. There will be no calling hours.
All are welcome to join us livestream to celebrate The Mass at 10am Wednesday, May 19th at www.icfayetteville.org/funerals
The family would especially like to thank the special group of kind and compassionate caregivers who provided their loving and attentive care over the years of Janet's decline.
In lieu of flowers, contributions may be made to Brady Faith Center, 404 South Ave., Syracuse, NY 13204.