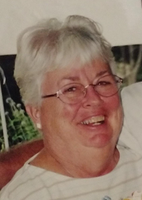 Margaret "Peggy" McNally
Margaret "Peggy" R. McNally, 84, passed away peacefully April 19, 2021. Born in Auburn, Peggy lived most of her life in Marcellus, NY. She graduated in 1954 from Marcellus Central Schools, where she loved cheerleading and twirling baton with the band. Peggy graduated with a degree in Elementary Education from Oswego State, while continuing her love of the baton and leading the band. She gave back to her beloved community by teaching second grade for 37 years and was a communicant of St. Francis Xavier Church, Marcellus.
Peggy enjoyed her time with family, friends, crafting, collecting antiques, and jet skiing at camp on Cross Lake. She was predeceased by her parents Rose (Ward) and Douglas Clarke; daughter Wendy Marks and son-in-law Leonard Marks.
Surviving are her husband James McNally; son Joel (Valerie) McNally; daughter Lindy (John) Drapikowski; 7 grandchildren: William, Peter, Maripat (Ryan), Peter (Kelly), Katie (Dustin), John (Kelly) and Lauren; and 10 great-grandchildren.
Calling hours will be from 3 to 6pm Friday, April 23rd at Ryan Funeral Home, 44 E. Main Street, Marcellus. Masks are required, social distancing and occupancy limits will be observed at the funeral home. The Funeral Mass and burial will be private.
In lieu of flowers, contributions may be made to St. Francis Xavier Church, P.O. Box 177, Marcellus, NY 13108.