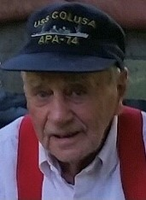 Wilson A. Stevens Sr.
Wilson A. (Bill) Stevens Sr., 96, of Marcellus, NY, passed away on Wednesday, April 14, 2021 at Upstate University Hospital at Community General, Syracuse. A lifelong resident of Marcellus, Bill was a proud WWII Navy Veteran and a lifelong member of the Ralph Share Post 297. He also was a lifetime member of the Marcellus Fire Department. For many years Bill and his wife owned and operated the Marcellus Liquor Store and he drove bus for Marcellus Central Schools. Bill was predeceased by his wife Mary (Betty) and his daughter and son-in-law Nancy and Wayne Thompson.
Bill is survived by three children: Patricia (Buz) Rose, David (Joanne) Stevens and Wilson Stevens Jr. (Flo Bonacci); seven grandchildren: Christine Thompson-Bubser, Peter (Heather) Thompson, Harold Rose Jr. (Tracy Koltun), Dr. David (Keri) Stevens, Brandon (Chelsea) Stevens, Patty (Danny) Tidwell and Wilson Stevens III; six great-grandchildren: Harris, Mason, Gavin, Brynley, Adalyn and Nathaniel.
The service and burial will be private. In lieu of flowers, contributions may be made to the Marcellus American Legion Ralph Share Post 297, P.O. Box 3, Marcellus, NY 13108.