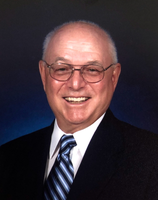 Robert H. Laird
Robert Harold Laird, 85, of Marcellus, NY, passed peacefully away Tuesday, March 16, 2021 while supported by his loving wife, June, of 62 years and children. Bob was born and raised in Springfield, MA and spent his summers in York Beach, ME, as he helped his parents maintain and operate their guest house, "Laird's" and several cottages.
Bob graduated from Springfield's Classical High School in 1953. He attended the University of MA and later earned both his BS Electrical Engineering degree and MBA at Syracuse University. He also served in the US Army Reserve.
Bob moved to Syracuse in 1958 to begin his 34-year career with General Electric as an Electrical Engineer in the Heavy Military, Radar division. He later became a member of General Electric's Syracuse Elfun Society.
Bob's love for classical music was displayed by his trumpet playing and participation with various choral groups: The Notables, Marcellus Choral, and Syracuse Oratorio Society. He also sang with church choirs at the Marcellus First Presbyterian Church and Peace Presbyterian Church, Stuart, FL, while he and June wintered in Port St. Lucie, FL, for 21 years.
Bob enjoyed working on home remodeling projects, furniture refinishing, gardening, and designing his yard landscape. His deepest enjoyment was his family. Bob met June, his high school sweetheart, in the 9th grade. He loved to tell the story about their first date walking to dance class. He signed his notes to his children, "Dear 'ol Dad". Bob was a man of strength, loyalty, integrity, and loved to tell jokes. We'll miss you, "Dear 'ol Dad".
He is survived by his wife June Laird; daughters Betsy (Tom) Ruff, Jennifer (Bob) Logan and Carolyn (Eric) Rice; son Rob Laird; 12 grandchildren, Elizabeth (Mike) Sweeney, Ted Ruff, Suzanne Rice (Nate Mink), Alex Ruff, Michelle Rice, Timothy Logan, David Logan, Nick Ruff, Christopher Logan, Matthew Logan, Logan Laird and Katey Laird; two great-grandchildren Molly and Tommy Sweeney.
Calling hours will be Saturday, March 20th from 11am to 1pm, held at the Ryan Funeral Home, 44 E. Main St., Marcellus. Masks are required, social distancing and occupancy limits will be observed at the funeral home. The Funeral Service and burial will be private.
In lieu of flowers, donations may be sent to the Matthew House, Inc., 43 Metcalf Dr., Auburn, NY 13021 https://www.matthewhouse.org/giving