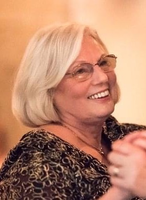 Melva E. Stepkovitch
Melva Elaine Stepkovitch, 73, of Marcellus, NY, passed away at home Thursday, March 11, 2021 from an aggressive cancer that overwhelmed her body quickly.
Melva was born in Allentown, PA, to Violet and William Reppert, and was the youngest of three siblings. She and her husband, Philip Stepkovitch, spent most of their marriage in Webster, NY, outside of Rochester, where she raised her two sons, David and Jason. While Melva held multiple jobs over the years, she always identified herself first as both a wife, mother, and grandmother, and her family was the center of her universe. In her later years, Melva moved to Marcellus to be close to her children and grandchildren, and became active in the local community. Melva will be greatly missed and will always be remembered for her devotion to her loved ones, her passion for life, and her wonderful sense of humor.
Melva is survived by her loving husband of 54 years, Philip; sons David and Jason (Khatuna) and her two grandchildren, Salome (Matthew) Walsh and David. The family had hoped Melva would live to see her first great-grandchild, due any day, but God had other plans. Memory Eternal!
Calling hours will be Sunday, March 14th from 2 to 5pm at Ryan Funeral Home, 44 E. Main Street, Marcellus. Masks are required, social distancing and occupancy limits will be observed at the funeral home. The Funeral Service and burial will be private.
In lieu of flowers, contributions may be made to Helping Hounds Dog Rescue, 7268 Caswell Street, North Syracuse, NY 13212.