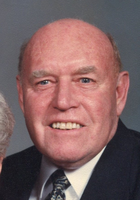 Donald W. Pelchy
Donald W. Pelchy, 98, of Marcellus, NY passed away Wednesday at Tidelands Waccamaw Community Hospital in Murrells Inlet, SC. Don was a life resident of Marcellus, graduating in 1942 from Marcellus High School. He was a WWII Navy Veteran, a member and Past Commander of the Marcellus American Legion Ralph Share Post 297 and a member of the Tin Can Sailors. Don worked 26 years for Mead Containers in Camillus, NY, retiring in 1984. He was a communicant of St. Francis Xavier Church, Marcellus. For many years, Don drove bus for Marcellus Schools.
Don was predeceased by his wife of 73 years, the former Anne Buhl in 2019; brother James Pelchy in 2011; sister Adeline O'Sullivan who also passed this week and son-in-law Richard Walczak who passed the same day as Don.
Surviving are three daughters Julie (Tom) Tiefenthaler of Hartland, WI, twins Susan Walczak of Myrtle Beach, SC and Sharon (Tim) Dudley of Marcellus, NY; eight grandchildren Tim (Lori), Stephen (Jessica), David (Lisa), Jeremy (Jackie), Allison (Guy), Elizabeth (Bryan), Joseph (Jill) and Andrew (Katie); and 21 great-grandchildren.
Service and burial will be private. There will be no calling hours.
Contributions may be made to the Marcellus American Legion Ralph Share Post 297, P.O. Box 3, Marcellus, NY 13108.