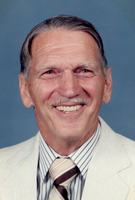 Carus E. Olcott
Carus E. Olcott, 97, passed away January 6, 2021 at the Presbyterian Home in New Hartford, NY. He was born on March 13, 1923 to the late Eugene Cecil and Hazel (Sampson) Olcott II. Carus was raised in Amber, and graduated from Marcellus Central School. He was a decorated US Army Veteran of WWII.
Carus was an avid painter, and loved woodworking and playing the banjo. He loved to travel and spent winters in Myrtle Beach, SC and summers in NY. His work life included being a farmer, custodian at the Church Center in Syracuse, and owner/driver of Olcott Trucking in Syracuse.
Carus is survived by his daughter, Barbara Weaver of E. Syracuse; son, Carus Olcott Jr. (Cheryl Ludemann) of Boonville; daughter-in-law, Norma Olcott of Auburn; 5 grandchildren: Dawn (Ziad) Hussein of Cicero; Kristin (Frank) Yeager of Glen Allen, VA; Jessie Olcott (Tim Groat) of Jordan; Erika Vitthuhn (Paul Gunnison) of E. Syracuse; Jonathan Olcott of St. Paul, MN; and 9 great-grandchildren.
A celebration of life will be held 10am Saturday, September 18, graveside, at Greenlawn Cemetery, 2932 Warners Road, Warners, NY, followed by a gathering at Shove Park, Fairmount.