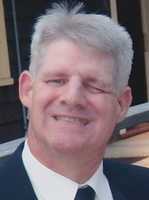 John Michael Caster
Mike was a survivor. Brain stem tumor in '82, stroke '92, bladder cancer '09, brain surgery '11. Although his body increasingly failed him, the spark in his bright blue eyes never faded until he passed away Jan. 4.
A Renaissance man, Mike loved the arts and science (B.S. in physics; minor in philosophy from Hobart). He was especially fond of musicals. He dabbled with passive solar energy, masonry and carpentry. During the oil embargo, he tore out the furnace and installed a wood-burning stove atop the elevated hearth he built.
At Jamesville-DeWitt High School, Mike played the tuba, baseball and football; in college, he played football, wrestled and sailed. He later picked up the guitar.
A graduate of Syracuse Law School, Mike was no three-piece suit lawyer, rather a local Atticus Finch, working for Legal Services of CNY. Later, he opened the Cayuga County branch in Auburn, NY, along with his private practice. He recognized a failure of our legal system to protect the most vulnerable, where those with the greatest need are least able to afford it. He set to correct that the best he could. If a client couldn't pay, his reaction was "Oh, well."
Mike loved his classic Ford 8N tractor, hauling firewood for home heating and brush for seasonal bonfires. An original farm-to-table adherent or "gentleman farmer," he raised livestock and tended a large vegetable garden for family consumption.
A Marcellus resident, Mike was the unofficial record-holder for most lifetime apple pies purchased from the local Masons, including a 40-pie single purchase. "High-time for pie time," he'd say. And if that didn't satisfy his notable sweet tooth, he kept a Little Debbie and Nutter Butter stash.
When health issues forced early retirement, Mike volunteered with outreach programs, tutoring math and reading. Despite increasing disabilities, he always counted his blessings, "Which are too numerous to mention, but for which we are grateful."
Above all, he was a devoted husband and father.
"He made me laugh," said Jan, his wife of 33 years. She recalled a line from the original limerick he recited at their wedding: Along came Janny and saved my fanny.
"I loved him for his good heart, good looks, and values of family, honesty, and social justice," she said.
His "kiddos"—Amy, Bryan, Rory and Andy—adored him. He never missed school events and guided by example--if words were necessary, they were memorable.
Mike also will be missed by Amy's husband, Gordy Gillmore, and son, Christian; Rory's wife, Emily; Kristin Zeeb (Bryan); siblings Kaye Kellman, Pat, Jim and Tom (Bety); first wife, Diane Stirton; and other family and friends.
We will never forget you, Mike. We will love you forever.
A fall memorial service is planned. Donations may be made to ProLiteracy.org