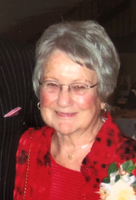 Anne B. Pelchy
Anne B. Pelchy, 94, of Marcellus passed away at home Friday, October 4, 2019 with family by her side. Born in Syracuse, Anne moved to Marcellus in 1940. She was a 1942 graduate of Marcellus High School. Anne worked 20 years and retired in 1986 from NYNEX, where she was a life member of the Telephone Pioneers. Anne was a communicant of St. Francis Xavier Church, Marcellus and a member of the Altar Rosary Society. She was a member of the American Legion Auxiliary for both the former Marcellus Ralph Share Post #297 and the Skaneateles Robert J. Hydon Post #239.
Surviving are her husband of 73 years Donald; three daughters Julie (Tom) Tiefenthaler of Hartland, WI, twins Susan (Dick) Walczak of Myrtle Beach, SC and Sharon (Tim) Dudley of Marcellus, NY; eight grandchildren Tim (Lori), Stephen (Jessica), David (Lisa), Jeremy (Jackie), Allison (Guy), Elizabeth (Bryan), Joseph (Jill) and Andrew (Katie); and 21 great-grandchildren.
Calling hours will be from 3 to 5pm Monday, October 7, 2019 at Ryan Funeral Home, 44 E. Main Street, Marcellus. A Mass of Christian Burial will be celebrated 9am Tuesday in St. Francis Xavier Church. The Rite of Committal and burial will follow at St. Francis Xavier Cemetery.
In lieu of flowers, contributions may be made to Marcellus Free Library, 32 Maple Street, Marcellus, NY 13108.