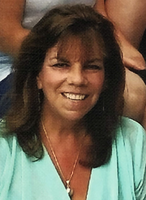 Kathleen M. Kelley
Kathleen M. Kelley, 61, of Lafayette, NY passed away Monday, September 23, 2019 at St. Joseph's Hospital, Syracuse after a brief illness. She worked many years as an insurance agent. Kathleen was predeceased by her husband Jerry and brother William.
Surviving are her future husband Steven Beak; brothers Thomas (Diane), Steven (Christine), Robert (Ronda), Ronald (Mary), and Scott (Beverly) Eicher; several nieces and nephews; and her loving A-Bay sisters.
Calling hours will be Friday, September 27th from 4 to 6pm, followed by a Memorial Service at 6pm, both held at Ryan Funeral Home, 44 E. Main St., Marcellus.
In honor of Kathleen's love for animals, contributions may be made to HumaneCNY, 4915 ½ W. Taft Road, Liverpool, NY 13088.