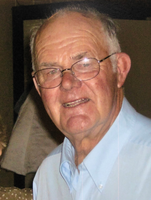 Francis C. Fitzpatrick
Francis C. Fitzpatrick, 87, of Otisco, passed away peacefully Saturday 7, 2019 at Central Park Nursing Home in Syracuse, surrounded by his family. Francis was born on February 28, 1932 to his parents Carlyle and Lillian Fitzpatrick. He graduated from Tully High School and later attended Morrisville College. He learned his love of welding from Carrier Corp. and was then hired by WF Saunders. After some time as a driver, his talent of welding lead him to become an important member of this corporation.
In 1951 he married Beverly Fish and had four children. Francis was actively involved in the Fire Department for both Amber and Otisco. His greatest love was helping the farmers in Onondaga County, specifically his closest friends in the surrounding Otisco area through his own welding company Fitzpatrick Welding Services.
In 1969 he became the first Democratic Supervisor for the Town of Otisco. He was a public servant to Otisco for 25 years as supervisor, as well as his various roles in the church. One of his favorite things was being Santa's helper at the Otisco Fire Department Pancake Breakfast for 50 years. Francis felt service was his way to support all the people of his community. For all that knew Francis, he was a huge sports fan, especially for Tully and SU.
Francis is survived by his wife of 68 years Beverly; children M. Eileen (Fred) Fuller, James (Lynne) Fitzpatrick, Daniel (Tommy) Fitzpatrick and Lisa Eipp. He also has grandchildren, Amy (David) Brunner, Christopher Fuller, Alexandra (Steven) Cooper, Bridgette Dwyer and Sean Fitzpatrick Dwyer; great grandchildren, Brennon and Kyleigh Craig, and Ella Cooper; many siblings, nieces and nephews.
Calling hours will be Wednesday, September 11th from 9 to 10:45am, followed by a Mass of Christian Burial at 11:00am, both held in the Church of the Nativity at St. Patrick's, 1865 Rt. 80, Otisco. The Rite of Committal and burial will follow at St. Patrick's Cemetery, Otisco.
All that knew him, have loved him and admired the amazing person he was. His devotion to his family and his faith was endless. A VERY special thank you to all of the staff at Central Park Nursing Home for their continued care and love of Francis.
In lieu of flowers, contributions may be made to Church of the Nativity at St. Patrick's, PO Box 169, La Fayette, NY 13084 or The Michael J. Fox Foundation, PO Box 5014, Hagerstown, MD 21741-5014.