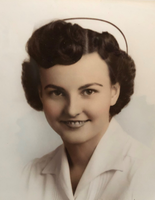 Anne Marie Gehlsen
Anne Marie Gehlsen, 93, of Marcellus, NY passed away peacefully Tuesday, September 3, 2019 at Francis House in Syracuse. Born in Fonda, Iowa, Anne Marie worked many years as a registered nurse at St. Mary's Hospital, Minneapolis, MN. She was a communicant of St. Francis Xavier Church, Marcellus.
Anne Marie is survived by five children Bob (Maggie) of Florida, Marilyn of Auburn, NY, Jim (Jean) of Virginia, Bill (Terrie) of Washington State and Kathleen (Rich) Pinkowski of Marcellus; 18 grandchildren; one great-grandson; her brother Clair (Shirley) Walsh of Minnesota; many nieces and nephews.
A Mass of Christian Burial will be celebrated 9am Monday, September 9th in St. Francis Xavier Church. The Rite of Committal and burial will follow at St. Mary's Cemetery, Skaneateles.
In lieu of flowers, contributions may be made to Francis House, 108 Michaels Ave., Syracuse, NY 13208.