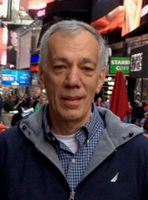 John J. Campfield
John Campfield, 70, died Sunday, June 23, 2019. He was a graduate of University at Buffalo and Syracuse University. A psychologist, he worked in human services for the state of New York.
John is survived by his wife Carole Carpenter, and his brother William Campfield, and many friends and relatives. He was predeceased by his mother Madeline Campfield and his father Maurice Campfield.
Calling hours will be from 2 to 4pm Saturday, June 29, 2019 at Ryan Funeral Home, 44 E. Main Street, Marcellus.
In lieu of flowers, contributions may be made to Syracuse Habitat for Humanity 308 Otisco St. Syracuse, NY 13204.