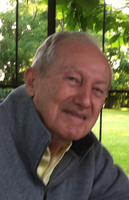 Thomas R. Bednarski
Thomas R. Bednarski, 84, of Seneca Falls and formerly of Marcellus went to be with our Lord, June 9, 2019. Tom was a retired Golf Professional and a Mink Rancher. He loved to fish and play golf, especially with his best bud Hobie Ouderkirk. Tom was predeceased by his stepson Arnold Phillips.
Tom is survived by his wife of 41 years Henrietta (Rita); children Matthew (Patty) Bednarski and Jennifer (Tim) Cain; his sister Joan Snook; grandchildren Jayme, Benjamin and Bradley Bednarski, Alissa and Ashley Cain; stepgrandchildren Cyrus, Tessa, Mia, Paije and Bailey Phillips; and great-granddaughter Aliyah.
Calling hours will be from 4 to 7pm Thursday, June 13th at Ryan Funeral Home, 44 E. Main St., Marcellus. A Funeral Mass will be celebrated 9am Friday, June 14th in St. Francis Xavier Church, One West Main St., Marcellus. Burial will be private.
In lieu of flowers, contributions may be made to a charity of your choice.