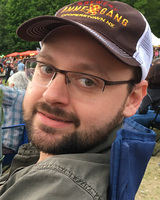 Robert A. Jinks
Robert A. (Bob) Jinks, 35, of Marcellus, NY, died on April 21, 2019, after battling a rare form of cancer. Bob was born on February 24, 1984, in Sidney, NY, to loving parents Milton and Dee (Roberts) Jinks. A 2006 graduate of Clarkson University, with a BS in Chemistry, Bob worked for Bristol-Myers Squibb for thirteen years.
A kind, loving man of humor and supreme wit, he is survived by his loving family: wife Laura (Butler) Jinks, whom he married on September 21, 2012; children Charlotte and Paige; parents Milton and Dee Jinks; grandparents Carol Roberts, Edie Jinks, Roy (Jean) Jinks; brother Michael (Ashley); sister-in-law Liz (Shawn) Isaacs and their three children; numerous loving aunts, uncles, cousins, and in-laws. Bob is also survived by his dear friends, Ryan Millner and Dave Kellogg. Bob was predeceased by his grandfather, Roy Roberts.
Calling hours to celebrate Bob's life will be held at Ryan Funeral Home, 44 E. Main Street in Marcellus on Saturday, April 27, 2019 noon to 3:00 p.m. A memorial service will then follow at 3:00 p.m.