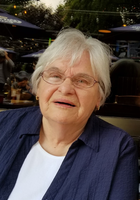 Marjorie L. Phillips
Marjorie L. Phillips, 88, of Marcellus passed away Tuesday, March 26, 2019 with family by her side. Marge was a life resident of Marcellus. She worked many years for A.V. Smith and was a longtime delivery person for the Syracuse Herald-Journal, retiring in 2009.
Marge loved her family and will be greatly missed. She was predeceased by her husband Frank J. Phillips and daughter June Ann Burt.
Surviving are her children Richard (Cindy) Phillips and Janice Hass; six grandchildren and 11 great-grandchildren.
Calling hours will be from 4 to 6pm, with a memorial service to follow, both held Friday, March 29, 2019 at Ryan Funeral Home, 44 E. Main St., Marcellus. Burial will be private.