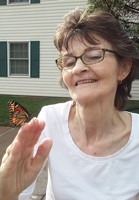 Susan E. Burnette
Susan E. Burnette, 75, of Marcellus passed away Saturday, March 16, 2019 at Upstate University Hospital, Syracuse, after a brief illness. Susan was a 1962 graduate of Marcellus Central School and a 1966 graduate of SUNY Oswego. She worked many years as a teacher at Fayetteville Elementary School, retiring in 1975. Susan also volunteered many years at the Marcellus Free Library. She was predeceased by her husband William and her brother Arthur.
Surviving Susan are her sons Ned (Kristin) Voss of Onondaga Hill and Andy (Crystal) Voss of Hartford, CT; six siblings Bill (Susan), Ed (Karen), Margaret, Tim (Nadine), Tom (Carol) and Ray (Mary); many nieces and nephews.
Calling hours will be from 10 to 12 noon Sunday, March 24th held at Ryan Funeral Home, 44 E. Main Street, Marcellus. Service and burial will be private.
In lieu of flowers, contributions may be made to the Marcellus Free Library, 32 Maple Street, Marcellus, NY 13108.