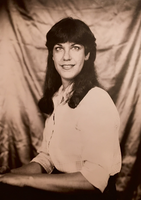 Debra A. Kemblowski
Debra Ann "Debi" Kemblowski, 64, of Syracuse passed away surrounded by family and friends on Wednesday, December 12, 2018 at St. Joseph's Hospital. She was born on February 9, 1954. Debi grew up in Marietta and graduated from Marcellus Senior High. A protester of the Vietnam war and nuclear power, a lover of nature and all things green. Debi was passionate about music, especially the Blues, and had so much pride in her photos she captured of bands and musicians from near and far. She was a Volunteer Collection Specialist for the Onondaga Public Library, "building a blues library for Central New York." Her dream was for the blues collection in CNY to be the biggest in the world. Her beloved mother Joan taught her how to hone her artistic talents by painting on china plates, something they both excelled at and shared with many friends, family, and classmates of her daughter, Erin.

Debi is predeceased by her mother & father, Joan Hayes and Stephen Kemblowski of Marcellus/Marietta.

Surviving are her daughter Erin O'Neill of Poughkeepsie, NY; brothers Andrew (Kim) of Spring Lake, NC and Walter Kemblowski of Marietta, NY; step-mother Shirley Allen of Marietta, NY; nephew Adam Kemblowski (Brianne); nieces Christine, Tasha, Jodie & Laura Kemblowski, and grand-nephews and nieces.

A celebration of life will be held in the Syracuse/Marcellus area in the Spring of 2019, date TBA.


"Those we love don't go away, they walk beside us everyday. Unseen, unheard, but always near, still loved, still missed and very dear."