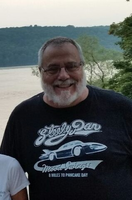 Rodger E. Conway
Rodger E. Conway, 62, of Marietta, NY, died suddenly on February 14th in Madisonville, KY. He graduated from Tully High School and Alfred State. Hardworking and independent, Rodger, along with his wife, were the founders and owners of Conway Gage Service. Most recently, he was a highly respected Senior Service Engineer for Hexagon Metrology of North Kingstown, RI.
As a Freemason, Rodger was a member of the Manchester Lodge of Coventry, RI. He was known for his sense of humor and being the guy that could fix anything. He loved driving his Peterbilt, fishing with friends, grilling, and boating on Otisco Lake with his family while listening to Steely Dan.
He is survived by Diane, his loving wife of 36 years; his daughters Ashley Conway (Edward Klavoon) of Allentown, PA and Audra Conway of Farmington, NY; his beloved hound, Rose; sisters Leslie Conway and Tracey Conway; several nieces and nephews. He is predeceased by his parents Paul Jr. and Kathleen Conway; and his brother, Paul Conway, III.
Friends are invited to call Friday, February 23 from 4-7pm at Ryan Funeral Home, 44 E. Main St. Marcellus, NY. Memorial Service will be held Saturday, February 24 at 1pm in Amber Congregational Church, 2366 Otisco Valley Road, Marietta, NY.
In lieu of flowers, donations may be made to the Rodger Conway Memorial Scholarship Fund, c/o Tully Central School District, 20 State St. Tully, NY 13159.