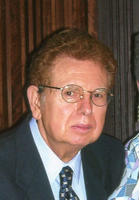 Leon J. Plochocki
Leon J. Plochocki, 75, of Marcellus, went home to the Lord on February 26, 2018. A lifelong resident of Onondaga County, he passed peacefully at home surrounded by his family after a long struggle with Parkinson's disease.
Leon was primarily employed by the Syracuse City School District as a special education teacher and later as a special education adaptive technology specialist for 39 years. He also taught adaptive technology as an adjunct professor at Syracuse University and worked part-time as a title searcher in the Onondaga County Clerk's Office. He loved to fish and hunt, and to spend time volunteering in the community. He was a member of the Optimist Club of Marcellus for 45 years, and founded and ran an annual fishing derby that is sponsored by the Optimist Club; it has run for nearly 30 years and now bears his name. Leon was predeceased by his parents, Leo and Rose Plochocki.
Leon is survived by his wife of 48 years, Julie (Grieco); his sons Michael (Debi), Christopher, and James (Naritsara); his grandsons Alexander and Thomas, and his brother Richard (Joy) all of Onondaga County and brothers-in-law Joseph Grieco and John (Pat) Grieco.
Calling hours will be from 2 to 5pm, with a prayer service to immediately follow, both held Sunday, March 4th at Ryan Funeral Home, 44 E. Main Street, Marcellus. A Mass of Christian Burial will be celebrated 10am Monday in St. Mary's of the Lake Church, 81 Jordan Street, Skaneateles. Burial will be at St. Francis Xavier Cemetery, Marcellus.
In lieu of flowers, memorial contributions may be made to the Optimist Club of Marcellus Fishing Derby at PO Box 9, Marcellus 13108, or to St. Lucy's Church at 432 Gifford St., Syracuse 13204.