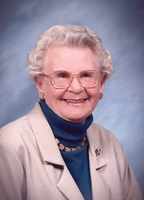 Mildred L. Ward
Mildred Louise Ward, 92, of Marcellus passed away Sunday at the Van Duyn Center in Syracuse.
Mildred was a homemaker enjoying knitting, sewing, baking and working in her garden. She also helped for many years with her husband's TV repair service.
Mildred is survived by her husband of 71 years Robert; two daughters Arleen (Jeff) Bragg of Grand Ledge, Michigan and Andrea Ward of Marcellus; two grandchildren Veronica and Jeremy Bragg.
Calling hours will be from 4 to 6pm Thursday, March 1, 2018 at Ryan Funeral Home, 44 E. Main Street, Marcellus. A service will be held 8:30am Friday at the funeral home and the Funeral Mass will then, also Friday, be celebrated 9am in St. Francis Xavier Church, Marcellus. Burial will follow at St. Francis Xavier Cemetery.
In lieu of flowers, contributions may be made to the Alzheimer's Association, CNY Chapter.