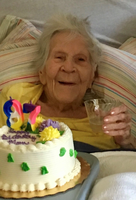 Angela D. Whitfield
Angela D. Whitfield, 97, passed away peacefully in her apartment at the Five Star Premier Residences of Pompano Beach, Florida on Friday, January 26, 2018. She was married to John Whitfield of Marcellus, New York for many happy years before his passing in 2003. Angela was born on September 16, 1920, the ninth of ten children of Mary and Peter Derring, who at that time were recent immigrants from Poland.
Just before the Great Depression, the family moved from Powhatan, West Virginia to the Finger Lakes region of New York State, where all but one of the ten siblings settled, married and raised their families. Angela was the youngest of six sisters. Her brother, Lewis Derring, survives her. She was a loving, caring daughter, sister, wife and the mother of two sons who survive her as well as six grandchildren and three great-grandchildren.
Angela's last years were spent in south Florida where she enjoyed the love and affection of her large family who spent time with their "Aunt Nellie", "Aunty", "Mom" and "Grandma". Those who knew her and cared for her in these later years, all remember her as their "Angie", or "Little Angel". She was all of that to the very end.
Calling hours are 4:00 PM to 6:00 PM this Thursday, February 1, at the Ryan Funeral Home, 44 East Main Street, Marcellus, NY. The Mass of Christian burial will be celebrated, beginning at 9:00 AM, Friday, February 2, in St. Francis Xavier Church, One West Main Street in Marcellus. The Rite of Committal and burial will follow at St. Francis Xavier Cemetery, Marcellus.
Her family and friends give great thanks and respect to the team of caregivers at the Five Star Premier Residences of Pompano Beach, and the caregivers at the Trustbridge Hospice Group of West Palm Beach. We will never forget your kindness, compassion and professional skills which gave Angela a great quality of life.
In lieu of flowers, contributions may be sent to the Trustbridge Foundation, 5300 East Ave., West Palm Beach, FL 33407 or St. Francis Xavier Church, P.O. Box 177, Marcellus, NY 13108.