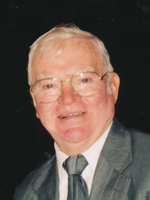 James Thomas "Tom" Reagan
James Thomas "Tom" Reagan, Jr., 85, of Marcellus, passed away peacefully at Francis House on January 27, 2018. Born October 3, 1932, he was a life resident of Marcellus, New York, a life communicant of St. Francis Xavier Church and a graduate of Marcellus High School.
He met the love of his life, Kathleen Stewart in 1947 and they married on September 19, 1952, ultimately spending almost 71 years together.
When Tom was in high school he worked mowing lawns in Marcellus, set up bowling pins at St. Francis' bowling alley for four and-a-half years and worked at the I.G.A. in Marcellus Village - stocking, bagging and delivering groceries. The last two summers of his high school years Tom worked for the Pepsi Cola Company delivering Pepsi. He started working fulltime for Pepsi after graduating in June of 1952. Tom continued to work for Pepsi until he was drafted into the service in December of 1952.
He served in the U.S. Army during the Korean Conflict at the White Sands Proving Grounds, NM until 1954. He reached the rank of Corporal. After coming home, he went back to work for Pepsi and also worked at the Allen V. Smith Barley Mill in Marcellus Falls as an extra job. Tom drove tractor-trailer trucks most of his life, mainly for Great Lakes Express, then later for Mead Container and Dairy Concepts. He belonged to the Teamsters Union for 24 years and retired in 1994.
Tom spent many mornings after he retired visiting with his friends in the restaurant at Marcellus Lanes.
He was an avid gardener, growing vegetables for many years and maintaining numerous flower gardens. He and his wife Kathy enjoyed traveling, visiting children out of state and travelling to Ireland together. A big WWII buff, Tom also visited WWII sites in England and France.
When Tom was in the Army he drove ½ ton Chevy pickups. He fell in love with the style. It took him 50 years to get one of his own, but he finally did, purchasing a 1947 Chevy Pickup Truck in 2002. He went to 12-15 car and truck shows each summer, and many car cruises. He won 7 trophies with the truck, although never better than second place, which was no problem to him. He loved his truck and drove it in many parades.
Tom was predeceased by his parents James T. Reagan, Sr. and Katherine Dillon, his beloved son Jack Reagan in 2016 and his beautiful granddaughter Carrie Reagan in 2010.
He is survived by his wife of 65 years, the former Kathleen Stewart and their children Terry Reagan (Gary Upton), Peggy (Jim) Girard, Dan Reagan (Adele), Patty Reagan (Tom Roberts), Bob Reagan (Manuela), Bill Reagan (Joanne), Katy LaMontagne (James Reagan), Joe Reagan (Winnie), his daughter-in-law Michele Parsons Reagan, 16 grandchildren and 7 great-grandchildren.
A memorial funeral Mass of Christian Burial will be celebrated 9am Thursday, February 1, 2018 in St. Francis Xavier Church, One West Main Street, Marcellus. Burial will follow at St. Francis Xavier Cemetery. There will be no calling hours.
In lieu of flowers, contributions may be made to Francis House, 108 Michaels Ave, Syracuse, NY 13208.