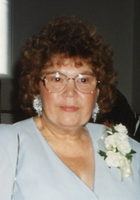 Nancy M. Williams
Nancy M. Williams, 83, of Marietta passed away January 8, 2018 surrounded by her family. Nancy was born and grew up in the Utica area. She married Richard Williams and they raised their family in Marietta among the best neighbors and friends. Nancy retired from Welch Allyn after many years of service. Her passions were cooking for family and friends, her Catholic faith and praying the Rosary.
Nancy was predeceased by her husband of 60 years Richard Williams and their son Daniel Williams.
Surviving Nancy are her children Joan (Leonard) Longo, Richard (Grace Maurillo), Marion (Bradley) Curtis, Susan (Dennis) Sauve, Laurence (Jessica) and Michael (Chris); 14 grandchildren; 12 great-grandchildren; her sisters Jennie True, Marie (Sal) Perritano and Joan Havernick; her brother Joseph True; sister-in-law Beverly Doolen; brother-in-law Robert (Pam) Williams and a very special friend George Schmidt, who made her final years very happy.
Calling hours will be 3 to 6pm Thursday, January 11th at Ryan Funeral Home, 44 E. Main Street, Marcellus. A Mass of Christian Burial will be celebrated 9am Friday in St. Francis Xavier Church, One West Main Street, Marcellus. Spring burial will be at Pine Ridge Cemetery, Navarino.
In lieu of flowers, contributions may be made to St. Francis Xavier Church, P.O. Box 177, Marcellus, NY 13108 or Alzheimer's Association of CNY, 441 Kirkpatrick Street, Syracuse, NY 13204.