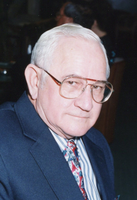 Richard D. Brown
Richard D. Brown, 83, of Amber, NY, passed away peacefully in the early morning hours of December 5, 2017 at St. Camillus.
Born in 1934 in Fulton, NY, he attended Marcellus Central Schools. After working on several farms, he began a career at Carrier Corporation, which lasted 42 years, until his retirement. Known fondly by friends and family as Dick, he enjoyed his lakefront property, travel, women, and wine. He was an avid collector of guns, coins and toy soldiers, of which he amassed over 1000 pieces. Besides purchasing, he prided himself on being able to cast and paint his own soldiers.
Dick was predeceased by his wife, Jean Hanson-Brown, in 2003; a long-term companion, Jane Orser, in 2012; a grandson, Ronald Perry II, in 2013; a brother, Edward Brown; sisters Doris Dodrill and Sarah Kingsley.
Surviving are his three children, Leslie (Barbara) Brown, Kathleen (Larry) Miles, and Curtis (Therese) Brown. A younger sister, Alta "Dutchy" Bullivant. Also step-children Lorrie (Tim) Dean, Linda (John) Martin, Leslie (John) Barnett, and Jason Wallace, and many grandchildren and great-grandchildren.
Calling hours will be noon to 2pm, with a memorial service to follow at 2pm, both held Saturday, December 9th at Ryan Funeral Home, 44 E. Main Street, Marcellus. Burial will be private.
In lieu of flowers, donations can be made to Amber Congregational Church or to Amber Fire Department.