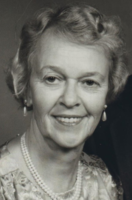 Jean M. Reagan
Jean M. Reagan, 87, of Marcellus passed away peacefully in her sleep Wednesday morning. In her early years, Jean was an elementary school teacher at both the Youngstown and Elbridge School Districts. Jean then went on to raise five children. She was a communicant of St. Francis Xavier Church, Marcellus.
Known for her gentle laid-back way, Jean loved camping (and her motorhome), nature, biking, knitting, crafting, cross country skiing, shoveling snow and yardwork. She also enjoyed swimming, and continued to swim her entire life. Some of her happiest hours were spent on her patio in Sun City, Arizona, sitting in the sun when it was warm and the shade when it got too hot.
Jean was predeceased by her son Robert and her sister Shirley Stone.
Surviving are her loving husband of 63 years Jim Reagan; children Kathleen (Jody) Reagan-Anderson, Mike (Jane) Reagan, Ned Reagan and Rick (Kristin) Reagan; seven grandchildren; two great-grandsons and several nieces and nephews.
Calling hours will be from 3 to 6pm Friday, December 1st at Ryan Funeral Home, 44 E. Main Street, Marcellus. A Mass of Christian Burial will be celebrated 10:30am Saturday in St. Francis Xavier Church. The Rite of Committal and burial will follow at St. Francis Xavier Cemetery, Marcellus.
Contributions may be made to St. Francis Xavier Church, P.O. Box 177, Marcellus, NY 13108.