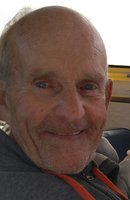 William "Butch" Hassett
William P. "Butch" Hassett, 79, of Marcellus passed away peacefully Saturday at Francis House in Syracuse, with his wife of 52 years Barbara by his side. Butch was a lifelong resident of Marcellus and worked as a heavy equipment operator for many years. In his retirement, he enjoyed working at Highland Cemetery. Butch was a communicant of St. Francis Xavier Church, Marcellus, and he was a member of the Marcellus American Legion Ralph Share Post 297. He enjoyed many years of camping and fishing on Otisco and Cayuga Lake. Butch loved his family and spending time with his grandchildren.
Surviving are his wife Barbara; children Donna Hassett of Newburgh, Dan (Liz) of Boston, MA and Kelly (Chad) Granoski of Cicero; four grandchildren Cole, Connor and Charlee Granoski, and Emma Hassett; siblings Jackie (Patsy) Hassett of Arizona, Eddie (David) Hassett of Maine and Sharon Dominguez of Virginia.
Calling hours will be 4 to 7pm Wednesday, June 21, 2017, with an American Legion Service to follow at 7pm, both held at Ryan Funeral Home, 44 E. Main Street, Marcellus. A Mass of Christian Burial will be celebrated 10am Thursday, June 22, in St. Francis Xavier Church. Burial will follow at St. Francis Xavier Cemetery, Marcellus.
In lieu of flowers, contributions may be made to St. Francis Xavier Church or Francis House.